Our Teachers & Associations
Ajarn Chai:
(Thai Boxing Association)

Surachai "Chai" Sirisute (born October 16, 1948)is a Martial arts Instructor who is the founder and President of the Thai Boxing Association of the USA and responsible for introducing Muay Thai to the United States. Born in Bangkok Thailand, Sirisute was indoctrinated to Muay Thai at the age of 4, kicking his father's heavy bag for 15 minutes a day.
Beginning at the age of six, he formally studied both Muay Thai as well as Karate beginning at the age of six.[1] He earned his black belt in Shorin-ryu at the age of 12, an age at which he also started to fight in the ring in Muay Thai.[1] Sirisute fought over 72 fights in Muay Thai and retired as a fighter in 1968, leaving Thailand to teach in America.[1]
Upon arriving in the US, Sirisute managed to befriend and train a notorious motorcycle gang called the Hells Angels, having no idea who they were until the FBI explained it to him. Whereupon, Siriste volunteered to train the FBI Agents.
During the 1970s and early 1980s Sirisute taught at several Southern California colleges: Chaffey College, Claremont Men's College and Cal State San Bernardino and out of his home. His early students included Mike Goldbach, Reggie Jackson, Glen Hernandez and Don Boyd, whom he brought to Thailand in 1982 as the first American team to compete in the Muay Thai World Championships.[1]
In 1978, trained another Martial Arts teacher named Dan Inosanto.[1] Inosanto trained as a student in Chai's backyard and eventually introduced Sirisute to his Jeet Kune Do teaching seminars, which greatly helped Sirisute extend awareness of Muay Thai in the U.S.A. as well as internationally.[1] In 1983 Inosanto introduced Sirisute to Tom Landry of the Dallas Cowboys who soon incorporated Muay Thai into their pre-season conditioning with Sirisute as their instructor until the time of Landry's departure in 1990.[2]
Marc "Crafty Dog" Denny:
(Dog Brothers Martial Arts)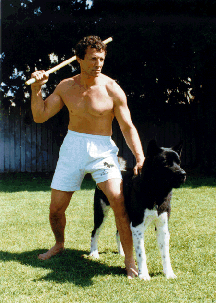 After spending my 20s in the typical merriments of the '60s and '70s, (e.g. I was at Woodstock.) in my final semester of law school (spring '81)I noticed Sifu Paul Vizzio teaching Fu Jow Pai (Tiger Claw Kung Fu—taught only in the NYC area) in the gym. I was impressed with the man, (after beginning with him I discovered that he was the PKA World Lightweight Champion) and certainly growing up in NYC had given me many experiences to appreciate the need for skills. The class was rigorous and I had to give up cigarettes.
After graduation, I moved to Washington DC for work and at Sifu Vizzio's suggestion ("you need to work on your legs, try the "X" TKD schools") started in a yuppie chain based in the DC area. I knew it wasn't what I wanted, but it was the most productive use of my time available to me.
After a year, I outgrew lawyering and moved to California. I met a guy on the beach who told me about the "Kali Academy". I had never heard of Kali, or Dan Inosanto, or any of arts it offered, but wandered in to check it out and have never left.
It was at the Kali Academy that I met Paul Vunak, who was very articulate about the benefits of trapping, so I trained with him for a few years. A very lively time and lots of learning. Paul spoke about the benefits of training stickfighting for developing trapping, so when one day Bill Gaye and Chris Markus came in with some BIG bruises saying they had actually been stickfighting I was intrigued. I had read about the "death matches" in the Philippines in Guro Inosanto's book and was kind of surprised that they were still alive. Next time Bill and Chris went, I tagged along to "just watch".
This is how I met Eric, who talked me into giving it a go. I had envisioned myself as quite the Sombrada stud, but somehow NONE of it showed up. This was a very sobering thought and I mulled it over for a couple of months. Already in my mid 30s, kickboxing seemed to offer a limited lifespan, yet I wanted to make sure that my skills were real. I resolved that stickfighting would become my vehicle to true fighting skill. Frankly, for the first couple of years, I was more determined than brave or talented, and I appreciate the way that Eric never overwhelmed me.
Eric and I became good friends, and he was always complaining of the difficulties of finding playmates. So I talked him into the Inosanto Academy with me where I knew we would be able to find more playmates. Guro I. already knew Eric through his teacher, Tuhon Leo Gaje, and he was allowed to jump into Guro's class with me. We were trusted to stay after classes were over for the night and use the school for sparring and then close up the school. In addition to the flow of adventurous visitors that a legendary place like the Inosanto Academy attracts, a small group of regulars (Mark Balluff, Mark Sanden, & others) now known as the "After Midnight Group" evolved. In the beginning the head gear was hard, and one night when Mark S. was exploiting this Eric grumbled a bit, so I reached up on the shelf and grabbed some very old fencing masks. It was also at this time that I suggested that we allow grappling, although none of us had a clue. Our first exposure to BJJ came probably around 1987 when Carl Franks, a student of Relson Gracie in Hawaii was visiting and played. We were intrigued.
The After Midnight group became "the Dog Brothers" at the three day fight fest in May '89. This was a transformational experience for all concerned. Everyone, except for one fighter who could only make the last day, averaged at least 20 fights. To go out to fight again and again, day after day, is an experience that is hard to describe. It is a crucible.
In the summer of '89, when I was attending my second Pekiti Tirsia summer camp in Tennessee, I was introduced to Punong Guro Edgar Sulite by Guro Inosanto and began extensive private training with him. Although I am an instructor in his Lameco system, I must say that our emphasis was on helping me as a fighter—there is much of the system that I do not know. A good man as well as a talented fighter and teacher, his untimely loss is a reminder to seize the day.
In the summer of 1990, Chris Hauter introduced me to the Machado Brothers, and influenced by the results, I began to train BJJ in earnest. Studying with my good friends the Machados has been a truly wonderful experience.
With the advent of the UFC, somewhere around UFC 3, we were approached about being a special event between the semi-finals and the finals, but ultimately were turned down, in the words of their letter, because we were "just too extreme" and would get them shut down.
The Dog Brothers videos were edited the winter of '92-'93 (I was laid up by a severe knee injury, so I was to finally get around to it) and released fall of '94. They have made it much easier to find playmates, and the "Gatherings of the Pack" now regularly draw 20-30 fighters from around the country, and an audience of over 200.
What a long strange trip this is! An amazing thing that started as some sweaty, smelly psychopaths with sticks. I doubt I could play my part without the help and guidance of my teacher, Guro Dan Inosanto.
Sifu Kevin Seaman:
(Jeet Kune Do / Filipino Martial Arts)
Kevin R. Seaman began his martial arts training in 1970 in Southern California. In the nineteen seventies, Sifu Seaman actively participated in amateur boxing at the Los Angeles' Main Street Gym. While researching different training methods, he started training in Filipino Martial Arts in 1976. He has reached instructor level in seven different martial arts systems.
Kevin Seaman is a senior student and Upstate NY representative for Dan Inosanto and is one of the few people in the Northeast authorized by Dan Inosanto to teach Bruce Lee's Jun Fan Gung Fu and the art and philosophy of Jeet Kune Do. He is one of a hand full of selected individuals to hold a Full Instructor's credential under Sifu Inosanto in Jun Fan Gung Fu/Jeet Kune Do and in the Filipino Martial Arts. He also received a Full Instructor credential from Sifu Tim Tackett. Mr. Seaman has been involved on a regional, national and international level in full contact stickfighting and forms competition. In 1992, he competed on the U.S. Team at the World Escrima, Kali, Arnis Championships in Manila, Philippines receiving second place.
Sifu Seaman was certified by Master Surachai Sirisute as an instructor in Thai Boxing and appointed as New York State representative for the Thai Boxing Association U.S.A. in 1989 serving in that position for 16 years. He is currently an Associate Instructor and Special Advisor for the TBA.
In addition to teaching classes at his CNYMMA and Tai Kai Jiu Jitsu in Syracuse, NY, Sifu Seaman also teaches credit physical education classes in Jun Fan / Jeet Kune Do, Thai Boxing, Western Boxing, and The Winning Mind Set-The Psychology Of Athletic Success at Cornell University, and has been on the teaching staff at Cornell since 1993.
Sifu Seaman became a certified instructor in 1992 in Wing Chun Gung Fu under Sifu Francis Fong and a New York State representative for the Francis Fong Academy of Atlanta, Georgia.
Kevin has also received his Instructor's Certification in Combat Submission Grappling under the guidance of light heavy weight World Champion Shoot wrestler Mr. Erik Paulson of Los Angeles, California.
Mr. Seaman is the author of the critically acclaimed book "Jun Fan Gung Fu Seeking The Path Of Jeet Kune Do" released internationally and "Jun Fan Gung Fu, Concepts and Principles of Jeet Kune Do" Vol. 1 & 2 available on video thru Black Belt Magazine Video. He also released his second book, The Winning Mind Set, co-written with Jim Brault which is now also out on Audio Book.
Kevin has written dozens of articles featured in national and international magazines. He currently has his own monthly column in MMA Authority Magazine entitled The Winning Mind Set on the Mind Game of MMA, and is also on the writing staff of contributors for Bodybuilding.com, the largest website for professional and amateur bodybuilders in the United States.
Kevin is a guest lecturer and workshop presenter for numerous business, educational, sports and recreational organizations including the Johnson School of Business MBA Fellowship at Cornell University and exclusive Performance Coach for the Professional Kiteboarders at 2005 PKRA World Cup held in Caberete, DR and various colleges throughout the country. Kevin is an affiliate of Brian Tracy International, and has presented over 250 workshops, seminars and group presentations to date. In addition to this, his study and application of the art and science of personal achievement and performance coaching has spanned over two decades. He has worked with hundreds of athletes and martial athletes including, Golden Gloves Champions, Muay Thai Champions and MMA Professional Fighters. Just a few of the Pros include, Tamdan "Barn Cat" McCrory, Erik "Chainsaw" Charles, Spencer Paige, Marc Stevens and Jon "Bones" Jones. He has taught Martial Arts and his Winning Mind Set Principles helping to empower thousands of students of all ages on both an academic and vocational level for over 30 years.
ewmaa.com
thewinningmindset.com